The Ugliest Hair On Television
Updated at 10 p.m. on 3/26/11:
WAIT! If you have just arrived here for the sole purpose of yelling at me and telling me how
horrible
I am and how wretched my post is, please read this first:
This is a HUMOROUS blog. I spend about 99% of the time making fun of people who are ME. That is because I confidently embrace self-deprecating humor, which I occasionally spread to other folks who are probably also totally capable of handling it, a la Ms. Vincent and her hairband.
ANY post that uses Jerseylicious and Mr. T Infomercials as a source of reference does not deserve your anger. It is misplaced.
That would be like prefacing a post about a celebrity's fashion failings by showing you pictures of my bright pink Crocs. I have absolutely NO BUSINESS writing about fashion. OR reality television. That is the whole point.
Still, cakes shouldn't be plugged in.
I am not a cake hater. I WORSHIP cake. And not only do I not hate cake, I don't hate people who make cakes, or people who judge people who make cakes. I KNOW I do not have amazing cake-making skills and I do find them impressive and creative and artful. I don't get why you would make a cake into Marge Simpson, and I don't get why you have to have an artificially stern judge be all mean about frosting, but that's not the same as hating.
* * * * * * * * * * * * * * * * * *
Let's move away, now, from the controversial parenting topic of pancakes to the topic of fugly, fugly hair.
I don't like to be outright snarky on my blog, but sometimes? Sometimes I have no other choice. This particular matter has bothered me for some time, and bad hair is only about half of it.
Naturally, I'm talking about The Food Network Challenge and its terrifying judge with her terrifying hair.
She has never smiled like this on television.
I do not understand.
Now, let me put this in the right context. Not only do I generally LOVE reality cooking competition shows, I fully embrace a
lot
of pop culture stuff I can neither explain nor justify. Case in point: My outright obsession with Jerseylicious.
See also:
ANTM...
Jersey Shore...
Britney Spears...
glitter nailpolish...
and infomercials...
(especially those starring Mr. T).
But the Food Network Challenges that revolve around competitive cake-making absolutely baffle me. I just don't get it, not even a little bit.
Is that a CHISEL?
Maybe the other shows have spoiled me, but shouldn't a competition about cake be about whose cake tastes the best? And okay, sure. If you want to add a category for whose cake
looks
the best, i.e., the most appetizing and pretty, go ahead. I get that.
That
makes sense.
And sometimes, that's what the Food Network Challenge involves.
WINNING!
But a competition about whose cake looks the most like a Disney character? Or which cake is the most functional? That's not what a cake is supposed to be. A cake doesn't need to spin or smoke or move in any way. It's...it's CAKE.
Please don't misunderstand me: I think the cake-sculpture people on these shows are amazingly talented and creative and I couldn't do what they do in a hundred years. But why CAKE? Why not take your amazing sculpting abilities and make things that aren't frosted?
I mean, if pressed, I get the whole Ace of Cakes thing some of the time. I get making grand cakes for grand occasions. Sure.
But a cake competition where how the cake tastes is barely a consideration just makes no sense to me at all. I don't want to have to plug in a cake. You know?
[for some reason I seem unable to find photographic evidence of a mechanical or plug-in cake;
it's as if they KNOW and are embarrassed...]
So.
The first time I discovered this world of competitive mechanical cake-making existed, I stared squinting at the screen for quite a while. "I DON'T GET THIS AT ALL" I announced probably 700 times.
And then we met the judges. And that's when my bafflement shifted to full-on WHAT IS HAPPENING ON THE TELEVISION? mode.
Because while these poor, exhausted, stressed-out competitors (are they bakers? pastry chefs? artists? sculptors?) are up against the most nonsensical odds for a cash prize of $10,000...
...the judges are mean. Or at least, this one judge is mean.
Her name is Kerry Vincent. And it seems like it's her entire schtick to be stern and angry and condescending and judgey-judge, and that makes even less sense to me than the competition itself.
Lady. You may have tremendous credentials, but you are judging the depth of frosting on a SPONGEBOB SQUAREPANTS CAKE. I'm pretty sure this means you're allowed to show up at your job drunk and topless.
Stern is ridiculous.
And but back to my
original
original point.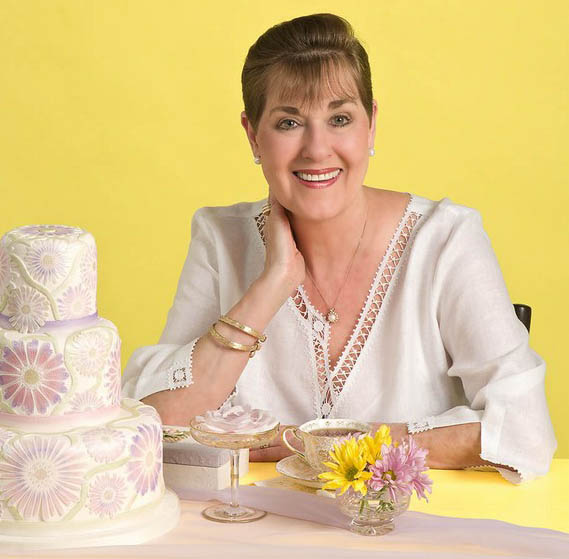 Her hair. What is going on with her combed-down, sprayed-into-submission, headband-from-1987 hair? I mean, yeah: I recognize that her look has become her trademark -- she is the stern judge with the over-tight headband -- but that doesn't make her popular, or marketable, or appealing in any way. It makes her the scary-for-no-reason judge with no fashion sense, who has a weird job on a weird show.
Nope. I don't get it.
Do you?