Things I Haven't Blogged About
Yesterday I got my hair done. Because I decided I wanted to stop making a fashion statement that said, "WEREN'T THE 90s AWESOME?"
(I don't think I look like Heather Locklear, God bless 'er.
I am using her to illustrated tired color, frayed ends, and dark roots.
This was a fashion "in" for about 11 seconds circa 1995.)
So I got to leave Eve alone with her father for a couple hours and it was totally, totally worth it. Not because I got time to myself, although, hi, hallelujah. But it was so worth it because of the look on Ish's face once we were reunited. He was happy, and relieved, and his eyes had a bit of
giddy-cum-desperate-ness
to them that, I'm not gonna lie, I relished.
In the two hours I was gone, he wasn't able to clean or work or get pretty much anything done other than baby-tending. "I-- I-- I couldn't even type two sentences!" he exclaimed, looking alarmingly at his open, untouched laptop, the Twitter screen aglow.
Oh, how I know the glowing Twitter-screen taunt.
My point is that I have been dying to blog. Dying to write, to be creative, to get to any of the dozens of little projects I've promised myself I'd get to. But mostly it's still all I can do to shower more than once a week.
It's getting easier. It's getting better. But it's still hard. Case in point: I started this sad little blog entry at 11:45 a.m. It is now 5:30 p.m. Who knows what time it will be when I finish this. (Ed note: 8:14 p.m.)
But in case you're wondering, here's some stuff maybe someday I'll write about:
- We have been trying very hard to make sure Eve gets out into the world (and also to make sure that Mommy gets out of the house). Before Eve was two weeks old, she went to her first winery. Here is a picture of me feeding her while taking a sip of something delicious and red: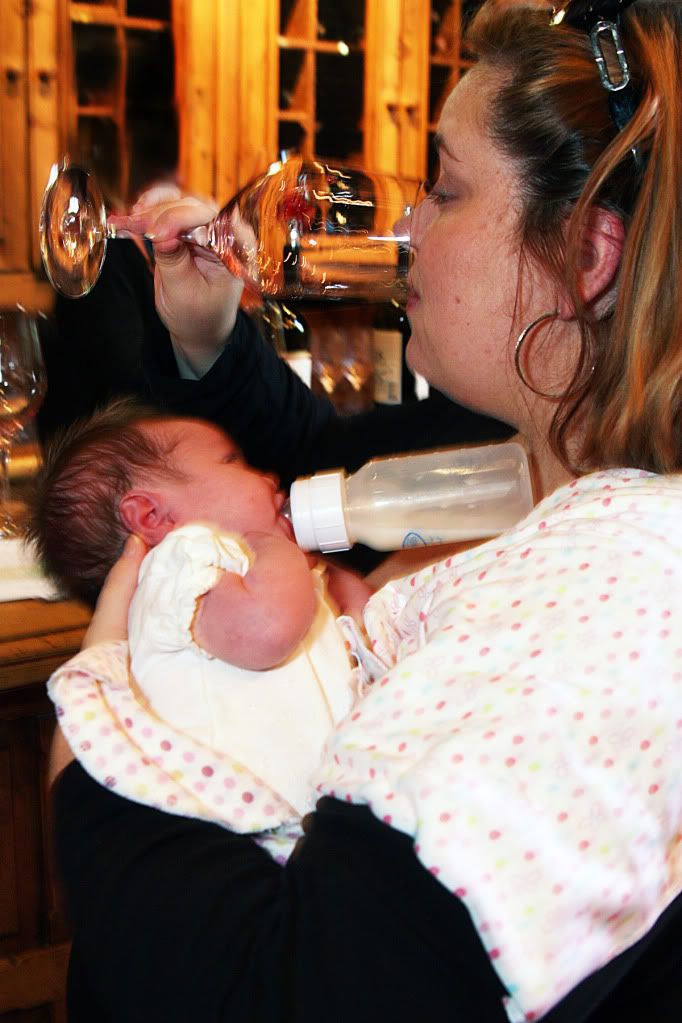 Mother of the year.
- We've taken Eve to dinner a handful of times. We took her to Tahoe. We took her to an outdoor concert. We took her to the movies. And next weekend, we're taking her to Maine for my cousins' wedding. (At some other point, I'll have to explain why that apostrophe is where it is, and why that doesn't make it illegal.)
- I have only taken Eve out
by myself
a couple times, but that's because I was given strict orders not to until my 6-week check-up post-surgery. The first time I went to the gym for a post-natal workout class(!) and the second time I took her to a Napa mom's group event that I didn't hate(!!!). Don't these things seem notable and blog-worthy!?
- I have SO MUCH to say on the breastfeeding subject. For now, I will offer that it's going fine. And in fact, I am looking forward to sharing my experience
because
it has been so darn fine. Despite the mass hysteria I created when I Tweeted the word "formula," it hasn't seemed to ruin my child's appetite for breastmilk OR my ability to create it. But I will tell you. Sometimes I feed her every 30 minutes, sometimes every couple of hours. Sometimes not for 4, 5, or 6 hours. And sometimes? When I haven't pumped enough "extra" boob juice but want an extra martini? I'll give her formula. AND SOMEHOW WE ALL SURVIVE.
- Oh, but also? HAHAHAHAHAHA. You know what's hilarious? People who can nurse standing up. All the baby carriers use the "and it's a great way to nurse discreetly!" line as a selling point. Um, no. There is no "discreet" nursing when your boob is larger than your baby's head. Not in a sling, not in a wrap, not in a carrier, not in a million years. Diagrams to come.
- In other news, for those of you who empathized with my hatred of Vicodin, thank you. I have been off it for 4 weeks now. Eve continues to sleep for 6 hour stretches at night anyway. (Not all the time, but hey, we'll take what we can get.)
However. I read that women who are breastfeeding do not get REM sleep, and that that's nature's way of keeping new moms alert. So in the end, 2, 4, and 6 hour stretches basically all feel the same. And explain the drool on my shirt.
- I stand by the declaration that Eve is an easy baby. I'm certain I will pay for this in horrifying toddler years or something.
- Um. I dunno. There's more to come. In the meantime, here are some pictures: