Fun Friday Giveaway!
How do I start this one?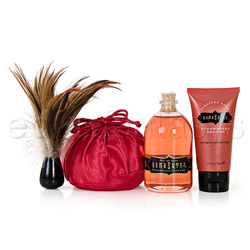 Back before Ish, when I was with TheBoy (who morphed into "T", who we should probably just call "Tony" at this point), my collection of Adult Products grew to notable proportions. This is because Tony worked for an online adult toy company and there were many unused, unopened products to be had and sampled ("Wow, that's COOL") and kept ("This goes in the drawer") and sadly, sometimes, thrown out ("What the hell is THAT supposed to be? Is that a -- nuh-uh, no way. Don't even THINK about it.")
Now, for the record, the website that Tony worked for was intended to be educational and sex-positive and, much like
Eden Fantasys
, was rather tastefully done. (But then again, "tasteful" only goes so far when you (by which I mean "I") start selecting products based on flavor or their relative amount of "sparklies".)
(Because sparklies!)
So on the one hand, we have that I actually know my stuff when it comes to Toys of the Adult Kind. I know what flavors are good and what shapes work better than others and I know that sometimes? Products can be way more approachable when they're pink and glittery.
Still, we have the other hand. The one where I never write about sex and sex-related stuff because HELLO, MY ENTIRE FAMILY! HOW ARE YOU? GOT PLANS FOR THE WEEKEND? OH, THAT'S NICE.
But whatever. Blogging, giveaways, la la laaaaaa.
I was very up-front with the Eden Fantasys person who contacted me about this giveaway. I communicated that I'd be more than happy to give a product away -- because who doesn't like free stuff? -- but that I wasn't sure whether you'd be all over it or kind of weirded out by it.
We decided to start with extra simple and tasteful.
The product featured above is called the
Treasure Trove gift tin
. The box it comes in is really pretty (it's here in my apartment, so I know what I'm talking about) and the contents are high quality. You'll be happy to know I didn't actually try these exact ones out, but I already own the feather, honey dust, and oil.
Please note: no one is paying me anything to say this, and I've owned the honey dust/feather AND oil for months.
Personally, I think the honey dust stuff is genius. It's literally honey in the form of a non-sticky powder, that you (or, ideally, your partner) applies with the feather. It feels so soft and if you do happen to taste it, it tastes like honey.
I will point out that unlike
actual
honey, it doesn't stick to anything, comes off easily in the shower, and won't ruin your sheets. (I'm just saying.)
I love this mostly because I live for light touches. No massage is light enough for me, and if it wouldn't be weird, I'd actually request that massage therapists just used their fingertips to touch me instead of actually kneading my muscles. But it
would
be weird, so I don't.
Not sure why I just shared that, but there you go.
Of course, if you like harder massages and can talk your partner into giving you one, the oil is kind of awesome. Yes, it's the kind that heats up. I personally think this kind of thing is awesome on places like the shoulders and back and not as great when you get to the...uh...privatey areas... but it depends on what you're going for and your personal preferences. I just recommend you try the heated oil on a "lesser sensitive" part of your body first. (Trust me when I say that's not a lesson you wanna learn the hard way.)
I don't know anything about the lotion, but it looks nice and says it's "cooling" and that seems pretty nifty. Perhaps you can add lotion if you get a little carried away with the heat from the oil?
So if you'd like to win this fun little gift tin, please just leave a comment -- about anything, really -- and include your location so we can avoid duplications in the case of same-name entries. I will pick the winner at random and post her/his name here on Wednesday morning, by 9 a.m. PST.
Good luck & Happy Friday!
(Updated: The contest will end at 8 p.m. PST on Tuesday evening.)